Working at de Buedemleër
A company cannot work correctly without a motivated, dedicated and committed team.
Have you the qualities and the desire to take up this new challenge? We would be delighted to receive your CV and cover letter.  Even if we should not currently be actively seeking new staff, an opportunity is always likely to be created.
Stagiairen fir en Testschaffen
Mat Méiglechkeet op en DAP–PARQUTEUR
(September 2023 – Juli 2027) -> Léierplaz fir 2022 ass schonn verginn
Är Missioun
Erschnupperen vum Beruff, am Kader vun engem Stage
D'Organisatioun an d'Strukturatioun vun eisen Chantieren kennen léieren
D'Firma de Buedemleër kennen léieren
Äre Profil
Intressie fir eng Léier "Parqueteur" ze machen
Intressie un verschiddenen Materialien an de Wëllen en proppert Resultat oofzeliweren
Punktlechkeet (6h50 Rdv am Lager) an Zouverlässegkeet
Handwierklech Begabung
Verantwortungsbewosst, autonome an dir hutt e gudden Equipe Geescht
Sproochen: Lëtzebuergesch, Franséisch an Däitsch, Englesch ass e Virdeel
Mir bidden
De Beruff vum Parqueteur kennen ze léieren
Perspektiven
En Apprentissage als Parquteur, ab September 2023
E jonkt, dynamescht a flexibelt Aarbechtsëmfeld
Schaffen an géigesäitegem Respekt, Transparenz an Éierlechkeet.
Ären Gebuertsdag ass e Feierdag
Intresséiert fir e Stage? Schéckt eis ären CV mat den Datumer vum Stage iwwert den Formulaire de contact.
 
de Buedemleër and its various careers.
de Buedemleër is not only a craft and family business, but above all: a team, a history, passions...
Each team member is valued and respected and team spirit is one of our values.
The Buedemleër team consists of
parquet and soft floor layers, curtain fitters
curtain, blind and screen installers.
a warehouse keeper
interior decorators
administrative staff
a cleaning agent
apprentices
trainees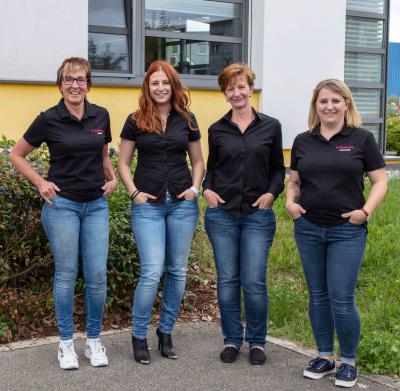 de Buedemleër and its strengths as an employer
In order to constantly improve the know-how of the whole team and to maintain a pleasant working environment, we offer
professional and modern vans, tools and machines
work clothes and safety devices
training, company visits and excursions
extra-curricular activities
bonuses, gratuities and extra holidays
regular exchanges between management and employees
...